Cinema
Ant-Man 3: Mixed Start for the New MCU Film
Quantumania signs the best score of the Ant-Man trilogy, but…
With 104 million dollars in revenue for its first weekend of operation in the United States,  Ant-Man and the Wasp: Quantumania signs by far the best start to the trilogy devoted to the character of Scott Lang. The first film, released in 2015, was content with 57 million green tickets, and its sequel had already done better with 76 million in 2018. Flattering figures must however be weighed and put into context.
Kevin Feige said it himself and repeated it during the promo, Ant-Man left his role as an entertainer in the MCU, and it is not entirely relevant to compare this new solo film to its predecessors. . Benefiting from a significantly increased budget (200 million vs 130 for the 1st), Ant-Man 3 kicks off Phase V of the Marvel Universe and introduces the character of Kang the conqueror, who will be the super-villain of the saga of the multiverse until 2026. The stakes have therefore completely changed for the superhero embodied by Paul Rudd.
However, if we measure Ant-Man 3 against the latest Marvel films, we see that it starts less well than Doctor Strange 2 (185 million dollars), Thor 4 (144 million), and Black Panther 2 (181 million). You have to go back to Eternals (71 million) and Shang-Chi (75 million), two films about characters never seen on the big screen, to find lower scores. What will it be over time? With the worst rating in the MCU on Rotten Tomatoes (47%, tied with The Eternals ) and a CinemaScore of B, not sure that word of mouth plays in favor of Peyton Reed's feature film.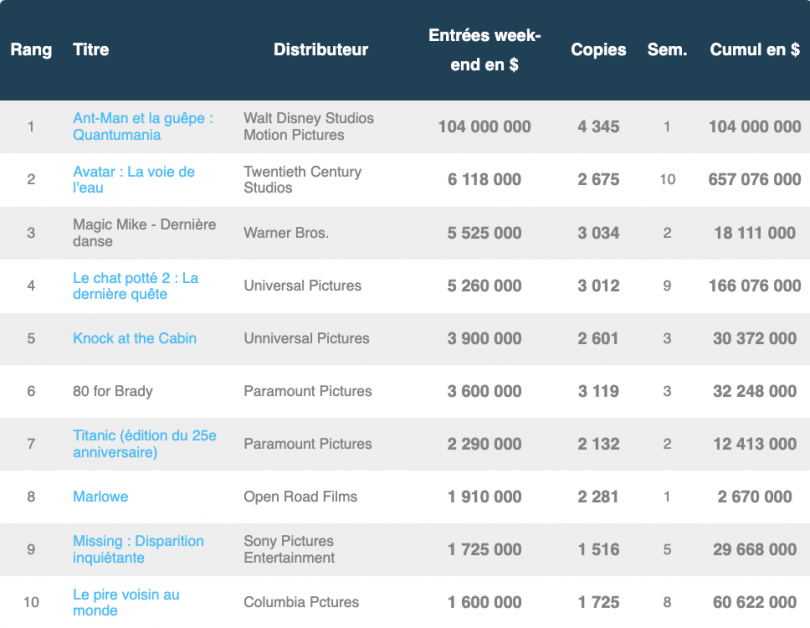 Worse, Quantumania did not benefit from its release in China, where Marvel films had been banned since 2019, with 19 million in revenue. It amassed 121 million internationally, bringing its overall box office to 225 million.
Kevin Feige may have recently swept away the public's weariness for superhero films, but Marvel productions are suffering from an undeniable erosion in terms of public success, and the quality of the works offered is not there. may not be foreign. The studio is faced with two options: innovate and take risks to try to regain its aura of yesteryear, or continue to capitalize on a worn-out formula but likely to attract a still very substantial fan base. For the moment, it is the second option that seems to be chosen…